Ayurvedic Treatment in Kerala for Osteoarthritis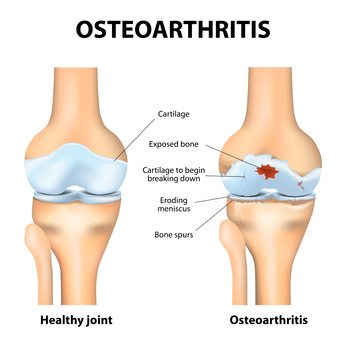 Read
Understanding Osteoarthritis
Osteoarthritis affects millions of people worldwide in different forms - knee pain, hip pain, cervical spondylosis, back pain etc. and is the most common chronic joint condition today. While modern medicine only offers temporary pain relief, ayurvedic treatment for osteoarthritis in Kerala offers a far superior management of the condition arresting the progress of the disease, providing excellent symptomatic relief and preventing recurrence in most cases. Ayurvedic treatment in Kerala is therefore perhaps the best available treatment option today for osteoarthritis.
What is osteoarthritis?

Osteoarthritis is a disease of the joints caused by the wear and tear of cartilage and bones. The synovial fluid in the affected joint dries up causing loss of lubrication and increased friction between bones. While normal healthy joints help you do day to day activities smoothly, a joint affected by osteoarthritis can cause you agony even when doing simple things like moving around, bending, climbing stairs, holding a cup, walking a few steps etc thereby making life stressful. Osteoarthritis is called sandhi gata vata in ayurveda - a condition of the joints arising due to a disturbance in the vata dosha, one of the three doshas in our body. Therefore, one of the chief goals of ayurvedic treatment for osteoarthritis in Kerala is to restore the dosha balance.


What are some mechanical reasons for osteoarthritis?

A large percentage of patients who come for ayurvedic treatment in Kerala for osteoarthritis has developed the disease due to mechanical injury to the joint. Mechanical injuries - whether sudden or chronic - can lead to dosha imbalance and degenerative changes in the body. For example, you may lose cartilage in the knee joint if you have the habit of walking long distances or climbing stairs up and down over and again or if your work requires you to stand for long hours. Similarly, if you work at the computer all day, sit for long hours, adopt the wrong posture etc. or if you use mobile phones frequently, you may develop degeneration in the vertebral joints. In fact, if you chronically misuse or overuse any joint, you are at risk of developing osteoarthritis.
What are some lifestyle related reasons for osteoarthritis?

Ageing is the most important reason for osteoarthritis, but these days we find that many of us are losing the cartilage in our joints at a very young age. This is often due to our wrong routines and practices. Some habits that cause vata dosha aggravation and trigger osteoarthritis are things like inadequate exercise, sedentary work, staying awake late night or overnight, frequent intake of junk food etc. If you are overweight, that is another reason to trigger osteoarthritis since it puts pressure on weight bearing joints like hips and knees and thus causes joint injury. These unhealthy practices increase the vata dosha in your body which in turn dries up the synovial fluid in joints. This makes way for the cartilage and bones to rub against each other and suffer damage. Ayurvedic treatment for osteoarthritis in Kerala is holistic in its approach and takes into account all these dosha related, dietary and lifestyle factors.
Ayurvedic treatment for osteoarthritis
Ayurvedic Treatment for Osteoarthritis
When should you consider ayurvedic treatment in Kerala for osteoarthritis?

Osteoarthritis can take various forms depending on the joints affected, but pain and stiffness are the two most common symptoms seen across all types of osteoarthritis. If you find that your symptoms have a persistent or recurrent nature, seek ayurvedic consultation. Often people try to self manage the condition using pain killers and fail to get treatment in time because the symptoms of osteoarthritis may have an off and on nature. Undergoing ayurvedic treatment for osteoarthritis in Kerala when the disease is still in its early stages gives best possibilities of cure and helps prevent damage to supporting structures of joints like ligaments.

What are some therapies used at a Kerala ayurvedic centre in the ayurvedic treatment for osteoarthritis?

Some treatments commonly done at a Kerala ayurvedic centre as part of ayurvedic treatment for osteoarthritis are:
Abhyangam - All body massage with medicated oil to reduce vata aggravation, relieve pain and promote relaxation
Podikizhi - Application of warm poultices filled with medicated herbal powders on the affected parts to improve circulation, remove toxins and clear tissue channels, reduce swelling and relieve pain
Elakizhi - Massage using boluses of certain herbs processed with medicines in order to remove toxins, improve circulation, relieve muscle spasm and stiffness, reduce vata vitiation and strengthen the surrounding structures of the affected joints.
Oil basti - Medicated oil is pooled and retained over affected joints to pacify vitiated vata and nourish tissues
Upanaha - A very effective technique in reducing stiffness of joints. This is a bandaging technique where medicines in paste form are applied on certain medicinal leaves and tied over affected joints.
Njavara kizhi - A highly rejuvenating and nourishing treatment done using boluses of a special kind of cooked rice and milk mixed with medicines. This is especially effective in nourishing and strengthening muscles, bones and soft tissues.

What are the different stages in the ayurvedic treatment for osteoarthritis in Kerala?

Ayurvedic treatment for osteoarthritis in Kerala is done as a step-by-step process and therefore requires three to four weeks of inpatient stay. The treatment for osteoarthritis usually begins with the physician assessing if there is any presence of toxins in the body and any swelling visible externally. Since proper functioning of biofire is essential for the success of treatment, the first step is administration of medicines to restore biofire and elemental fires present in tissues. This is usually accompanied by external therapies such as lepana to relieve swelling. Once swelling is reduced and the biofire is restored, the second stage of treatment is initiated which includes medicines and therapeutic procedures to relieve pain, repair the damaged parts and arrest vata vitiation locally. Therapies such as abhyangam or elakizhi are done at this stage. The third stage of treatment aims at restoring dosha balance with internal medicines and external therapies like oil basti. The fourth stage of treatment is rejuvenation where medicines and therapies are employed to arrest the disease process, prevent further damage and rejuvenate the damaged joints. Preventing recurrence of osteoarthritis is achieved through rasayana medicines (which aids regeneration of damaged tissues and enhance immunity) as well as patient education on required dietary and lifestyle changes.


How successful is the osteoarthritis treatment in Kerala?
Osteoarthritis treatment in Kerala successfully achieves the following in most cases:
Provides quick and lasting symptomatic relief by increasing blood circulation and reducing inflammation. Medicines containing herbs such as Aswagandha, Boswellia, Guggulu etc. with anti inflammatory properties are prescribed. Pain, swelling and stiffness subside and activities of daily living become easier.
Joints gain more flexibility, stability and strength. Increases lubrication of the joints and regenerates damaged joint tissue.
Prevents chances of recurrence by correcting dosha imbalance.
Prevents progress of the disease and complications of osteoarthritis. In the advanced stages of osteoarthritis, ligaments and tendons around the joint become weak and the joint loses its stability. Ayurvedic treatment for osteoarthritis in Kerala is an excellent way to prevent bone death, stress fractures and joint deterioration.

Ayurvedic diet & lifestyle advice for osteoarthritis
What is the diet advised in the ayurvedic treatment for osteoarthritis?

Fresh, warm, moist and slightly oily - if you have osteoarthritis, this is your mantra while choosing your food. The ideal diet for osteoarthritis patients is a vata pacifying diet which has qualities opposite to that of the vata dosha. The qualities of vata are coldness, dryness, lightness etc., so your food should be warm, moist and heavy to counteract it. For eg. ghee helps in arresting the dryness of vata. Add ghee in small quantities in soups, rice porridges etc. Add cumin seeds, fresh ginger and garlic while cooking to improve digestion and pacify vata. Saute instead of deep frying. Avoid very spicy food. Food that is lubricating from within such as coconut, olives etc. and fruits like melons, berries, oranges, bananas, grapes and mangoes may be used. Dairy products such as milk, ghee and buttermilk are recommended while cheese and curd are to be limited. Avoid cold food and refrigerated leftovers.


What is the lifestyle advised in the ayurvedic treatment for osteoarthritis?

Here are some guidelines to maintain your dosha balance:
Go to bed by 10:00 p.m. and wake up by 6:00 a.m. Never stay awake at night since this causes a terrible imbalance of doshas and is often seen as aches and pains the very next day.
Take breaks during the day. If your work involves excessive use of any joint particularly the knees, hip or the hands or if you have prolonged sitting or standing involved in your work, take frequent breaks and get some rest to avoid causing more wear and tear to the joints.
Adopt ergonomic posture at all times.
Use the oils prescribed for you. Apart from the lubricating effect in joints, oil application helps to keep the vata dosha in check; it decreases the effects of ageing, bestows strength and increases longevity.
Exercise regularly and moderately. Over exercise is a trigger for dosha imbalance. Keep your body weight within healthy limits.
Avoid exposure to very cold weather and if you need to go out in cold weather, dress warmly. Extreme cold weather is another important trigger for vata dosha aggravation; this is why we usually experience an exacerbation of osteoarthritis symptoms in winter.

Summary

With the increasing incidence of knee pain, neck and shoulder pain, back pain, cervical spondylosis etc., the significance of ayurvedic treatment for osteoarthritis in Kerala is increasing day by day. The chronic and painful nature of osteoarthritis has a serious negative impact on people's productivity and quality of life. Undergoing ayurvedic treatment in the early stages of the disease gives the best possible results, but even in the advanced stages of the condition ayurvedic treatment in Kerala has been found to be highly beneficial in relieving pain and preventing complications like bone death and joint deformities. You can sustain the results of osteoarthritis treatment in Kerala for a lifetime if you comply with your doctor's advice and make the necessary dietary and lifestyle changes.
For individual medical consultation and treatment-related enquiries, contact us

FAQ on osteoarthritis
After my osteoarthritis treatment at an ayurveda hospital in Kerala, how long more will I need to take medications?

The last part of ayurvedic treatment for osteoarthritis happens after discharge. You will be prescribed medicines for about 3 months to take at home. At the end of the prescribed period, follow up with your physician and see if you have to continue the medicines or not. Depending on your progress, you may be asked to stop the medicines or continue the medicines for one or two months more.
After my ayurvedic treatment for osteoarthritis in Kerala, will I be able to completely stop pain killers?

Yes in most cases. Osteoarthritis treatment in Kerala gives very effective and long lasting pain relief. If you take all your discharge medicines as prescribed and comply with your doctor's dietary and lifestyle guidelines, you can prevent recurrence of pain and you will not need to take pain killers.
Can I undergo osteoarthritis treatment through online consultation without coming to an ayurvedic centre in Kerala?

No, you will need to come to Kerala to undergo ayurvedic treatment for osteoarthritis. There are mainly two reasons: 1) the doctor needs to see you in person to do a proper assessment and determine the treatment that you need 2) panchakarma treatment for osteoarthritis includes certain procedures that can only be done effectively if you stay as an inpatient.
Can osteoarthritis be managed with physiotherapy / physical medicine alone?

Physical medicine is complementary to ayurvedic treatment. It helps in improving blood circulation to the affected parts and strengthening the muscles around the joint. Ayurveda treatment for osteoarthritis goes beyond reducing inflammation, improving blood circulation and strengthening the muscles. Ayurvedic treatment is also aimed at regenerating tissues and restoring the dosha balance in the body. It is seen that physical medicine is more effective in managing osteoarthritis after the underlying problems are solved through ayurvedic treatment. You can get the best possible results from your ayurveda treatment in Kerala if you follow it up with regular exercises as recommended by your physiotherapist.
Until I come for ayurvedic treatment in Kerala for osteoarthritis what can I do for pain relief?

Talk to your ayurvedic physician about which oils are most suitable for you. If you don't have medicated oils, apply warm gingelly oil around the affected joint. Use warm water boiled with salt and leaves of tamarind for bath; this gives good pain relief.
What are some foods that can worsen osteoarthritis?

Processed foods like biscuits, cookies, cakes and sweets cause inflammation. Similarly, salty savouries, fried foods, dishes made with maida and alcohol worsen osteoarthritis. Also stay away from foods that give you gastritis and constipation.
What are some foods that I can include in my diet to aid regeneration of my cartilage?

Gooseberries, avocados, oranges, strawberries, plums, green grapes, pomegranates, turmeric, onions and brussel sprouts help in regeneration of cartilage.